Sherman E. Burroughs

High School




1966-1970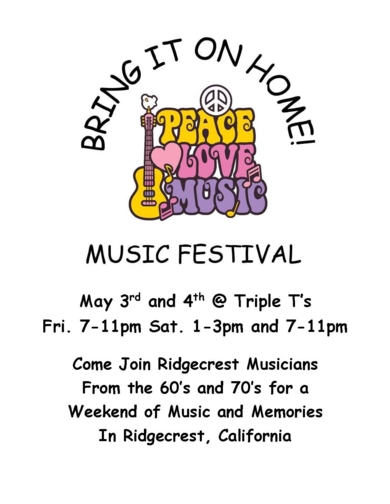 Bring it on Home Music Festival
Triple T's Tavern, Ridgecrest CA
Friday May 3, 2019 (7 PM)
Saturday May 4, 2019 (1-3 PM and 7 PM)
Featuring many Ridgecrest friends and classmate musicians, including, in alphabetical order so as to avoid favoritism:
Jim Badalich
Bob Bechtel
Don Carlisle
Bill Casaroli
Norm Dravis
Kenny Freund
Chuck Howell
Paul Hupka
Danny Miller
Steve Roberts
Craig Stevens
Ed Stokely
Greg Turnbaugh
Greg Velicer
Gene Warren
(Local hotels offering special rates for attendees: Spring Hill Suites and Hampton, $109.00)
Golf anyone? You must submit your info by 12 October - see "Golf" at left
Don Snyder will lead a Saturday morning desert walk again - and Believe It or Not... (click Sat a.m. Desert Trek at left)
Great band booked!
Check out "Music" at left
---
It's #9 ~ let's do it up fine!
BHS CLASS OF 1970
45TH REUNION
"Never too late - Never too old"
OCTOBER 23-25, 2015
Don't miss out! Sign up now!
To register click the "45th Reunion Registration" link in the left column. Please complete registration info right away so we know you are coming for the fun. Follow up with payment as soon as possible with either the PayPal/Credit Card option, or by mailing a check. Thank you! Want to see who is planning to come? Click on "Classmate Profiles", then the icon/link for 45th reunion attendees (4th one down). Scroll down to see the growing list.

Please help us to find missing classmates.
Core events:
FRIDAY NIGHT: John's Pizza 6-10 pm
Eat, greet, drink w/ acoustic music
SATURDAY NIGHT: The Clarion Hotel 5:30-11 pm
Buffet dinner, dancing, live band
SUNDAY MORNING: Charlie's (Clarion) 8 am ...
Buffet or menu, visit, hugs & kisses
THOSE WHO WOULD LIKE TO COORDINATE AN ADDITIONAL ACTIVITY PLEASE USE "CONTACT US" WITH YOUR INFO SO WE CAN GET IT POSTED.
THE "FINE #9" REUNION COMMITTEE (to date and growing!)
Co-chairs: Joleigh (Sakraida) Rafalski and Melody (Inman) Spurgeon
Dan and Mary (DeSanto) Anders

Debra (Rodgers) Blackmon* (see below)

Tary (Casaroli) Francis

Julie (Lutjens) Franich-Beckman

Ruth (Peckham) Kahn

Teresa (Kersten) Leonard

Bruce and Lisa Livingston

Sheila (Guzman) Miller

Tom Rafalski

Bill Schaniel

Don Snyder

Musicians: Organizers Danny Miller and Paul Hupka, Jim Badalich, Don Carlisle, Tony Jaime, Steve Roberts, Gene Warren . . .
*Committee member and co-website administrator Debra Blackmon is seeking elementary school pics - click on K-6 Photo Request in left column