Sherman E. Burroughs

High School




1966-1970
What a special weekend!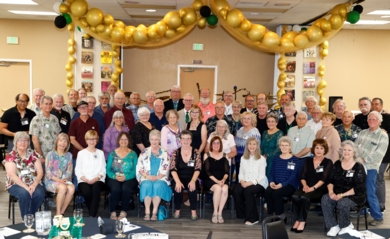 Click on 50th++ Sat Dinner, Dance & Program Link in left column for Group Photo and individual's names. Check out the other 50th++ event links for more photos.
Special thanks to Art Burkhalter for bravely and successfully standing on a chair to shoot this shot...and to Pam Green Burkhalter for remaining calm and not having a heart attack.
Class of 1970 50th++ Reunion
GO BOLD FOR THE GOLD
Friday, April 29th - Sunday, May 1st
Thank you so much to all who donated time, hard work, funds, talents and creativity to help make this special event happen and bring us together...50 years later
Reunion Executive Committee
Julie (Lutjens) Franich-Beckman

Pam (Green) Burkhalter

Ruth (Peckham) Khan

Chris Lee

Melody (Inman) Spurgeon

Joleigh (Sakraida) Rafalski
Live Music
Norm Dravis

Paul Hupka

Steve Parker

Steve Roberts

Gene Warren
Special Support
Dan and Mary (DeSanto) Anders

Brenda (Bettis) Charles

Debra (Berry) Newton

Lupe Bowles

Bob and Tary (Casaroli) Francis

Cary Dabbs

Vicki Fritchman

Norman George

Steve Gutierrez

Sandy (Hamilton) Hoagland

Mark Kasal

Dan Kus

Phil Martin

Nancy Perkins Pace

Tom Rafalski

Susan (Greedy) Roberts

Don Snyder

Joyce (VanDevender) Ellefson

Susan Warren
Auction, Gift Prize and Cash Donations
Jim and Marta Badalich
Marc Baker
Debra (Berry) Newton
Brenda (Bettis) Charles
Dorene (Blackmon) Mollenhauer
Reed and Lupe Bowles
Jim and Carol (Ferrone) Brown
Art Burkhalter
Thessa Cox Mullins
Cary and Faith Dabbs
Norm Dravis
Walter and Lisa French
Chris and Vicki (Fritchman) Lilly
Norman George
Steve Gutierrez
Bob and Sandy (Hamilton) Hoagland
Roland Hartley
Carol Theresa (Kersten) Leonard
Dan and Mary Kus
Kathy Ladda Apodaca
Pete and Clixie (Fletcher) Larson
Deanna Ripley-Lotee
Tom and Donna Martin
Danny Mercado
Scott and Terry (Anderson) Millett
Rita Paine Rich
Steve and Denise Parker
Joyce Phillips Youngs
Ty Pritchett
David and Anise Ritchie
Bill Schaniel and Teresa Orr
Joey Soto
Zelda (Connie Stanley) Kennedy
Craig and Sandy Stevens
Gene and Dian (Ayers) Tabb
Joyce (VanDevender) Ellefson
Willie Walters
MEMORIES
Classmate Debra (Rodgers) Blackmon has kindly tried to keep our "In Memory" page up-to-date. If you know of a classmate we have sadly lost whose information has not yet been added, please let her know. She also previously started trying to collect elementary school pics - click on K-6 Photo Request in left column
Trouble logging in or here for the first time? Read the "For classmates new to the site" link at the top of the column to the left. Useful tips on how to set up an initial account, retrieve a forgotten password, etc. Use the "Contact Us" link to request assistance if you try and don't succeed. NOTE: Only members of the Burroughs Class of 1970 can have access.
Lots of Reunion Photos are posted go check them out!
Please use "Contact Us" if you have pics to add to our online album